Starting Out - Final Steps
Well, you've made it to the final stages of setting up your site. At this point you're hopefully putting the finishing touches on your pages, the shopping cart or some form of order and payment processing system is ready to go (all the bugs worked out) and you've got it loaded to the hosting company you chose to go with. Now that wasn't so bad, was it? ;)
7. SO, YOUR SITE IS "LIVE"...HOW WILL PEOPLE FIND IT?
Remember the movie, "Field of Dreams"....if you build it, they will come? Well, that's not necessarily the case with a website. You'll need to submit your site to the search engines so customers can find you. Please check out the Web Resources page for the submission site links. Try one of them and get your name out there!

Before you do that, however, there are a few things you can do to prepare your site for submission. I'm not going to go into it too deeply here because I'm going to give you some links to help you out.
Web search engines use "meta tags" and "keywords" in order to bring back results according to the search criteria. You should include these in your HTML code if at all possible to help with your site's ranking with the search engines. Try these sites for more explanations and steps on how to do that.
Submit Corner - Check out their Meta Tag Generator. You'll build it through their utility, and the cut and paste the HTML code into your page.
Article: How to Prepare your Website for the Search Engines. This is a more do-it-yourself option vs. the Meta Tag Generator link above. But it does give you a good explanation of these terms and the concept and importance of them.

It's also a great idea to have a site counter on your main page to see how many visitors your advertising is bringing in. Bravenet.com offers free counters, and you can have up to 4 of them for your site, too, for putting counters on different pages. You can also try Sitemeter. It's free, too!

And before we get to the last steps, here are a few other miscellaneous website "maintenance" items worth checking into.
Internetseer.com will monitor your website host's performance and e-mail you with the details.
As you promote and join exchanges, site rings, etc, you will probably have other crafters, etc. linking to your site. Here's a way to see who is linked to you: In a search engine's search utility, type in: link:http://"yoursiteaddress.com" (no quotes.)
8. PROMOTE PROMOTE PROMOTE!
Lastly, promotion is key. This may get you more sales than the site submission, because you'll be getting more directly in front of the customers vs. relying on them finding you via a web search. You'll want to take a look at the links here and create a plan for where you want to advertise. If you want to try banner exchange programs, Ad Designer is a great free service that will help you create your own banner ad in minutes. I've already tried it and it's easy!
Click here to browse the Promotions Directory.
One Last Idea....you might want to think about selling some items at auction. If you provide a link back to your site it might help you generate additional customers.

9. A CUSTOMER HAS PLACED AN ORDER!!
Woohoo! No doubt you must be very excited at the prospect of your very first internet sale! I'm sure you know how to craft your item, or else you wouldn't be here right now. However, do you have everything you need in order to ship it safely to your customer? Here are some resources that could come in handy when shipping your products.
Shipping Supplies from the United States Postal Services You can order shipping supplies online through their site.
Print a Priority Mail Shipping Label online
Tracking Service for USPS Express Mail
UPS.com - get rates, shipping calculators, etc.
That's about it! I wish you luck in your online craft endeavors and I hope you found this information helpful in creating your own website. Please let me know how things turn out! As I said before, I'd really love to post comments from visitors here on my site. E-mail me with them, or with questions, comments, etc. about the site. I'm open for suggestions. If you have information that would be useful to others, pass it on and I'll add it here.
If you're interested in how-to books on selling your crafts, click here for some suggestions. You can also find a list of websites and resources with articles on selling crafts online or "in the real world" at this page.
To view my site that I've been referring to, check out mylilcraftshoppe.com. Thanks for stopping by!

If you found this information useful, please click the links below and rate/vote for me at these sites! It helps to spread the word about my site! Thank you!

and vote for me at these sites: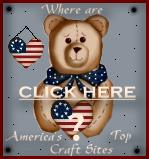 ;

The Top 100 Craft Sites Report updates every 30 minutes and resets every 7 days.