Welcome!
This site is geared towards the small business crafter looking to get their products on the internet at little or no cost!
When I decided to put my own craft site on the web, I did a LOT of research. I wanted to see how others did it, and I needed information on how to go about it myself. I needed to know how to set up shop, how to collect payments, etc., so I just started searching for it all. My main criteria in finding useful services was that they needed to be free. I know, that's asking for quite a bit, now, isn't it? However, there are so many great free tools out there on the web that I knew it was possible! There's also a lot of info out there, and several different routes you can take to sell your craft items online.
My research turned up so many links; it's actually overwhelming. I was surprised that I did not find a website out there that had all of the information I needed together in one place. Sure, you can find what you're looking for if you search hard enough, but that's time consuming. I wanted to help other crafters looking to do the same thing I set out to do, and so I've compiled the information I've found and put it all here in this website. I've already done the grunt work for you! So, if:
You're looking to build a site of your own and don't know where to begin, or

You're looking to advertise or promote your own site, or

You're looking to sell online through an established online craft mall, or

You're just looking for additional online crafting resources....
You've come to the right place! I've got some general advice for you and I'll point out several things you may want to consider before getting started. This site is really about the resources I found and used in order to create my own site. I'm going to assume that you either already have built your own personal web pages or you now have an interest in doing so. If you're not looking to do that, I hope I'll be able to connect you with a craft mall that you'll be able to sell your items through.
Disclaimer: This site was created to help you get your crafts business on the web. I can only offer my suggestions and links to services, etc. that can help you. I can't guarantee that you'll get sales results!
Note: Resources listed within this site are not endorsed in any way by The Crafter's Resource Guide unless specifically noted in red within the listing. Also, I gain NOTHING by recommended them; any recommendations I give are because I truly believe in the services they offer. For your benefit, I've listed the fees of services where applicable. Please keep in mind that any pricing details are subject to change by that individual site, however they were current as of this website's publication. AND Always read carefully all terms and conditions of agreements before signing up or joining. Speaking of Terms of Service, please read mine here!
DO-IT-YOURSELF CRAFT WEBSITE

My steps might help you if you don't know where to begin....

WEB GRAPHICS

Looking for Country or Craft Graphics for your site? Try this directory for several great sites with country graphics...

DON'T WANT YOUR OWN WEBSITE?

Not to worry...try looking through the list below for an online mall....

NEED TO ADVERTISE YOUR SITE?

FREE Banners, classified ads, link pages and other resources where you can advertise your site.....

GRAPHICS LINKS
Have your own website? Why not help other crafters find a good host by filling out the quick poll on the page below. Rate your Web Host Here!
Feel free to post message on the Crafter's Resource Guide Message Boards. Got a question or comment, post it here!
NEW! Read articles from fellow crafters. Informative and useful advice on selling products online.

RATE YOUR HOST

scroll to the bottom of the page

CRAFTER'S CORNER

I've added quite a bit of things to the site with this update. Look for this star to indicate a new item or listing! Also, I must send kudos and give someone else credit for the advice and suggestions that aided in these updates - Barb from Sundance Designs. Thank you so much for the great tips and ideas! Check out Barb's site via the link above or the banner at the bottom of this page!
PS: I'd really like to hear your success stories, too....so please, if you find something here that helps or does wonders for you, let me by sending me e-mail! I'd like to post your responses on my site, as well.
If you have a website or operate a service for crafters, either free or fee-based, and you would like to have a link listed here at The Crafter's Resource Guide, please e-mail me with your URL so I can check out your site and find an appropriate place for it.
Contact Info:
My Lil' Craft Shoppe
P.O. Box 341812
Milwaukee, WI 53234-1812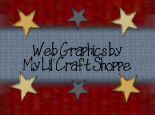 If you found this information useful, please click the links below and rate/vote for me at these sites! It helps to spread the word about my site! Thank you!



;

The Top 100 Craft Sites Report updates every 30 minutes and resets every 7 days.


Arts and Crafts Banner Exchange